$285.70
+ Free Shipping
Leaves the Warehouse in 3 to 5 business days
$159.99
+ Free Shipping
Leaves the Warehouse in 1 to 3 business days
Learn About Table Top Heaters
Popular Articles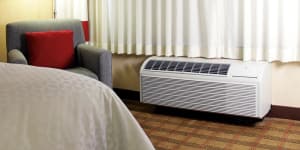 Table of Contents Types of Packaged Terminal Air Conditioners Factors to Consider While Shopping Popular Brands of PTAC Units It's hot outside. Not much you…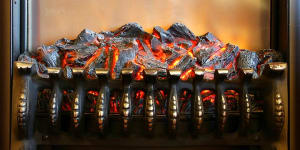 Nothing says holiday season and cold winter months like gathering around a cozy fireplace. But not all homes have fireplaces, and adding one can be…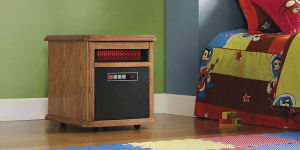 Have you ever felt chilly while standing in the shade but feel nice and toasty once you step into the sunlight? This is because infrared…
Electric Table Top Heaters: Perfect for Patios & Decks
Are you looking for a simple, safe way to keep your porch or patio heated throughout the winter? Whether you don't have the floor space or simply cannot afford the costs of a hanging heater, table top patio heaters are efficient, versatile solutions for staying warm wherever you may be. Here at Allergy&Air, we have a multitude of table top heaters in many different styles, shapes and finishes, so you'll have no problem finding the best contender to suit your outdoor space. If you're in the market for a flexible, portable heater that can easily fit anywhere you'd need, then it's time to invest in a table top heater.
Heating That's As Spontaneous As You
The great thing about outdoor heating is that there are so many options to choose from—regardless of your budget, space and personal style. Large areas with lots of extra floor space might be best suited for standing heaters. Hanging and wall-mounted heaters can keep a space warm while maximizing space. A table top heater can be placed nearly anywhere; they offer an elegant-yet-classic appearance at very attractive prices.
The flexibility of these portable lamps allow you to move and arrange them depending on how you plan to use a space. For dinner parties, placing a few lamps across a long table will not only look great, but it'll keep your guests toasty warm. After dinner is over, move the series of table top heaters throughout the space—or wherever the party takes you—to enjoy hours of supplemental warmth.
Our selection portable outdoor heaters offer all the aesthetic benefits of a table lamp, with up to 11,000 BTUs of powerful heating. We offer many different models of heaters to ensure for the perfect fit on your porch or patio. These durable lamps serve as unique accent pieces, and are large enough to heat you and your guests without being obtrusive.
With all the benefits of table top heaters, you'll be happy to learn that they're also very affordable—many coming in at under $200. Despite the low price tag, we are still able to offer quality products from top brands such as Endless Summer and Fire Sense. The outdoor heating appliances from Allergy&Air are safe, well-made and powerful. Many of them are designed with handy safety features like tip-over protection and automatic shutdown, along with weighted plating for maximum stability.
Easy, Customizable Outdoor Heating with Table Top Heaters
It can be hard to predict what kind of event you will need to prep your patio for. If spontaneity and flexibility are important to you, table top heaters may be the best choice for keeping your outdoor entertainment space warm and comfortable. These portable lamps are easy to set up, emit heat almost instantly, and can be conveniently stored when not in use. Never let a cold evening get the better of your party plans again. Browse our selection of outdoor heaters and find your perfect, name-brand heating solution.